Bone-on-a-chip
Animal models are still essential for the study of biology, embryonic development of bone, and biomedical investigations of bone pathologies. However, animal studies in the musculoskeletal field often involve highly invasive procedures that might cause pain and stress to the animal. Furthermore, species-specific differences complicate the translation of results to humans. Up to now, there are no experimental in vitro methods available that mimic the essential developmental steps of bone in their complexity, e.g. in order to test substances for their therapeutic or toxic effects with regard to skeletal development.
Organ chip systems
Organ chip systems are miniaturized bioreactors and are well suited to mimic the physiology of a particular tissue or organ and enable the co-culture of cells in 2D and 3D. Unlike conventional 2D cell culture, tissue-specific parameters can be mimicked to recreate the function of an organ or aspects thereof. In this project, a bone-on-a-chip will be developed.
Bone-on-a-chip system
The bone-on-a-chip system includes a 3D replica of the bone containing all major human cell types.
In bone, oxygen saturation and the presence of mechanical forces are important physical parameters that influence local cells and therefore overall biology and function. In this project, we are using the miniaturized bioreactor to monitor and regulate the oxygen saturation and mechanical load to delineate the environment of the bone as realistically as possible.
The bone-on-a-chip should enable us to mimic adult tissue as well as the formation of new bone during embryogenesis. Thus, a number of different applications in basic science and toxicology are conceivable. For example, depending on the organoid, the processes of bone formation during embryogenesis (desmal and enchondral ossification) can be imaged. In addition, there is the possibility to model human pathologies such as osteoporosis by using patient-derived primary cells.
In summary, a human bone-on-a-chip has great potential to be used for developmental studies, testing of teratogenicity and disease modeling. In the future, this might allow for research into new drugs and treatment strategies without the use of laboratory animals. Thus, animal experiments can be reduced in number or even replaced altogether.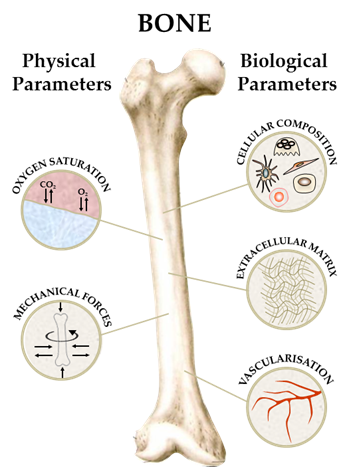 Figure: Schematic representation of the main characteristics of bone tissue and their replication by an organoid and a microphysiological bioreactor (Scheinpflug et al. Genes 2018)
Further reading:
Marx-Stoelting, P., Solano, M.L.R., Aoyama, H., Adams R.H., Bal-Price A.,, Buschmann, J., Chahoud, I., Clark, R., Fang, T., Fujiwara, M., Gelinsky, M., Grote, K., Horimoto, M., Bennekou, S.H., Kellner, R., Kuwagata, M., Leist, M., Lang, A., Li, W., Mantovani, A., Makris, S.L., Paumgartten, F., Perron, M., Sachana, M., Schmitt, A., Schneider, S., Schönfelder,. G, Schulze, F., Shiota, K., Solecki, R. (2021). 25th anniversary of the Berlin workshop on developmental toxicology: DevTox database update, challenges in risk assessment of developmental neurotoxicity and alternative methodologies in bone development and growth. Reprod Toxicol, 100, 155-162. https://doi.org/10.1016/j.reprotox.2020.11.003
Solecki, R., Rauch, M., Gall, A., Buschmann, J., Kellner, R., Kucheryavenko, O., Schmitt, A., Delrue, N., Li, W., Hu, J., Fujiwara, M., Kuwagata, M., Mantovani, A., Makris, S.L., Paumgartten, F., Schönfelder, G., Schneider, S., Vogl, S., Kleinstreuer, N., Schneider, M., Schulze, F., Fritsche, E., Clark, R., Shiota, K., Chahoud, I. (2019) Update of the DevTox data database for harmonized risk assessment and alternative methodologies in developmental toxicology: Report of the 9th Berlin Workshop on Developmental Toxicity. Reprod Toxicol. 89, 124-129. https://doi.org/10.1016/j.reprotox.2019.07.003
Schulze, F., Schneider, M.R. (2019). Hoffnung oder Humbug? Organ-on-a-chip in der biomedizinischen Forschung und als Alternative zum Tierversuch. Deutsches Tierärzteblatt, 67(10).
Scheinpflug, J., Pfeiffenberger, M., Damerau, A., Schwarz, F., Textor, M., Lang, A., & Schulze, F. (2018). Journey into Bone Models: A Review. Genes, 9(5). https://doi.org/10.3390/genes9050247
Kodzius, R., Schulze, F., Gao, X., & Schneider, M. R. (2017). Organ-on-Chip Technology: Current State and Future Developments. Genes, 8(10). https://doi.org/10.3390/genes8100266
Schulze, F., Gao, X., Virzonis, D., Damiati, S., Schneider, M. R., & Kodzius, R. (2017). Air Quality Effects on Human Health and Approaches for Its Assessment through Microfluidic Chips. Genes, 8(10). https://doi.org/10.3390/genes8100244